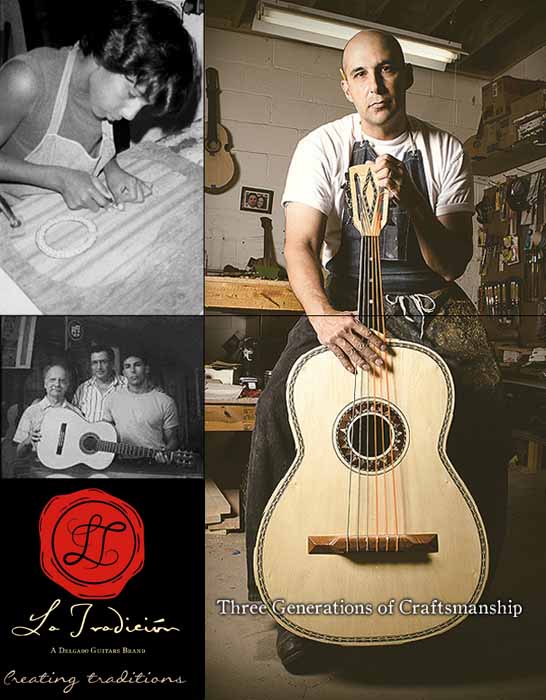 "La Tradición is the result of the Delgado family business that survived by following the model of making friends, not customers.
In 2006, Manuel A. Delgado, third generation old world luthier and owner of Delgado Guitars began La Tradición with the goal of creating quality, handmade musical instruments at an affordable price. With over 80 years of history, Delgado creates a brand that is like no other.
From the authentic instruments and innovative accessories, to his top notch services and "customer first" philosophy, La Tradición has made a name in the world of Mariachi and Latin instruments. Delgado's approach is simple – do everything with our customer in mind. He knows that musicians want affordable quality and an instrument that will not just have amazing tone, but is built with integrity. Manuel Delgado makes it a point to listen to students, teachers, administrators and our musical public to make sure that we know what you love, what you don't like and what you wish you had. It is this that drives the products and accessories as well as the services he offers.
Keep current with us on Facebook and you'll be among the first to know as Manuel launches new products, offer seminars and clinics, teaching aids, and video tutorials that range from music lessons to lectures and repair tips. Learn more about what makes Delgado unique and support small business."



About Manuel Delgado;
Manuel A. Delgado is a third generation Luthier (Instrument maker) with a history that dates back to 1928. Manuel's grandfather and great-uncle started the family business which was later passed down to Manuel's father, then to him. Manuel began playing guitar at the age of five, entered into guitar repairing by age seven, and built his first guitar by the age of 12 which he still proudly owns and plays. The Delgado's have a client list that included some of the greatest musicians in history, including;
Andrès Segovia , Theodore Bikel, Burl Ives, Old Crow Medicine Show, Laurindo Almeida, Vicente Gomes, William Clauson, Arlo Guthrie, Hoyt Axton, Jose Feliciano, Paul Young, Charo, Jose Barroso, Luis Florriaga, Virginia Santos, Arturo Valdez, Jose Oribe, The Kingston Trio, The Christy Minstrels, Celedonio Romero, Los Lobos, Ozomatli, Quetzal, Jackson Browne, Los Exterminadores, Tigres del Norte, Johnny Polanco, and Disney's Mariachi Cobre to name a few.
Manuel has had instruments in the Fowler museum at UCLA, two separate exhibits with the Smithsonian Institute in Washington and a traveling exhibit, is featured in the "Fretboard Journal" magazine (winter 2007) , "American Songwriter" magazine (Feb 2010), Acoustic Guitar Magazine (August 2015), and has been included in the L.A. Times, Esquire, Travel, The Best of L.A., The Tennessean, The City Paper, Vida Nueva, La Opiñion, Daily Paper, The East Nashvillian, Nashville's "Spirit" Magazine, "Hearts and Hands" a book of builders around the U.S. and many other prints.
Manuel has also been on ABC, NBC, CBS, Reading Rainbow, Huell Howser, KTTV, KCAL, Spanish TV (Nashville), Tennessee Crossroads, Univision, Telefutura, Telemundo, PBS, NPR, Good Day L.A., 2 on the Town, a Hartford commercial, National League of Cities and a BOSE commercial. Manuel is also currently working with a major motion picture being developed as an advisor.
After 9/11, Manuel designed and built, "The Unity Guitar." Created to raise money for the undocumented victims of 9/11, Manuel sought out artists from all styles of music to support the project. Not only was the goal for the instrument to be made from woods around the world, but to be autographed by different musical artists of various genres in order to represent unity. The artists included; The Dixie Chicks, Glen Campbell, Smokey Robinson, Mary J. Blige, David Lee Roth, Alanis Morrisette, Dwight Yoakum, Luis Miguel, Vicente Fernandez, Alejandro Fernandez, Juan Gabriel, and many more. Manuel's guitar raised over $35,000 and was awarded "Local Hero of the Year" in 2002, a certificate of appreciation from the City of Los Angeles and a certificate of recognition from the City of New York's Tepeyac association.
Manuel also designed a guitar for the Grand Ole Opry for the Ear Foundation Benefit which included The Gaither Vocal Band, Mel Tillis, Pam Tillis and many other country legends.
Early in 2005, Manuel moved to "Music City, USA," city of Nashville, Tennessee, to continue following his family's tradition. Manuel sits on the Music Makes US" board as well as "Make a Mark" and his neighborhood association. He also works with school districts around the U.S. to grow or create music programs and developed a line of instruments that are high quality and affordable for schools called, "La Tradición"
For more information go to www.delgadoguitars.com